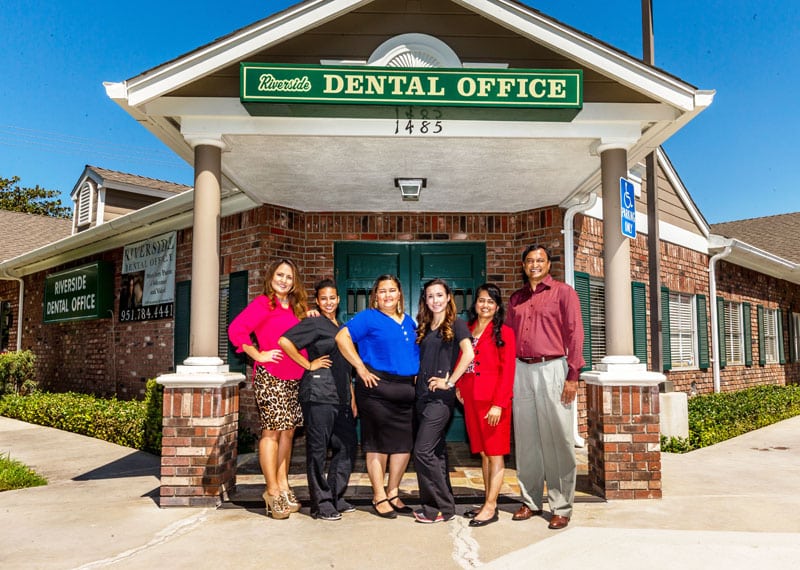 Award Winning Cosmetic & Family Dentistry in Riverside
Are you looking for a great dentist in Riverside? You've come to the right place. Dr. Metha and her Riverside team are dedicated to personalized care for both your health and appearance.
We promise to keep you fully informed on your oral health conditions and needs, and thoroughly discuss your treatment options. Dr. Metha has been in practice for over 14 years and has won Inland Empire Magazine's top dentist award for the last 7 years running. She's a member of the General Academy of Dentistry, the California and American Dental Associations, and the Tri-County Dental Society. Dr. Metha and her team are the professional choice in Riverside whenever you need family dentistry, cosmetic dentistry (including Six Month Smiles and Invisalign), and implant dentistry.
If you're having a dental emergency, the sooner you get treatment the better. In the extreme case of a knocked-out tooth, a few minutes can make the difference between keeping and loosing that tooth. Just give us a call and we'll advise you on exactly what to do. We're experienced with dental injuries and emergency situations, and work with you on any financial issues. And remember that the treatment will almost certainly be less painful than what you're already enduring.
Don't suffer through pain, difficulty eating, or even self-consciousness regarding your appearance. Gentle, painless relief is just a phone call away.
We Accept All PPO and HMO Insurance Plans As Well As Denti-Cal
Full Range of Cosmetic and General Treatments, Schedule Today (951) 667-1595
Riverside Family Dentistry
We're ready for all the general dentistry services your family might need. That includes regular exams and cleaning, teeth whitening, tooth extractions, root canals, dentures, and partials. Our family dentistry practice has a unique focus on gum problems. Left untreated, periodontal disease can go so far as to damage bone and loosen teeth. Any of several significantly different procedures may be called for. So you can see that professional diagnosis and treatment is important.
Riverside Cosmetic Dentistry
Dr. Metha has won the Inland Empire Magazine Best Dentist award for cosmetic dentistry the last 7 yrs in a row. So it's clear who's the preferred local expert. The appearance of your teeth can have a big impact on your life in terms of how others might judge you and how you feel about yourself. There's nothing like a confident and welcoming smile to start and build a relationship, whether personal or professional. In addition to teeth whitening, Hi-Tech is at forefront of latest technology and techniques for perfecting the color, alignment, size, and shapes of your teeth as well as correcting broken, chipped, cracked, or missing teeth and treating over and under bites. Our special services include bridges, restorations, composite fillings, crowns, inlays, onlays, and veneers. We're Lumineer certified.
Riverside Implant Dentistry
The best treatment for a lost tooth, whether by trauma or other causes, is implant dentistry. An implant is an artificial tooth that looks and functions just like a natural one. The procedure is often considered part of cosmetic dentistry, but an implant is also important for a variety of oral health reasons, including eliminating problems associated with your jaw and adjacent teeth reacting to the vacancy. A dental implant in a permanent alternative to dentures. They appear completely natural, and you'll have no problems eating or talking. They're durable, and with good oral hygiene can last decades. Unlike dentures, maintenance is just a part of your regular brushing and flossing. Dr. Metha and her Riverside team are experts in implant dentistry and keep up with the latest advancement through continual education.
Six Month Smiles
Everyone knows that a welcoming smile is important to everyone. For better or worse, a visual first impression can be a lasting impression. Just as importantly, one shouldn't be embarrassed or self-conscious about flashing a smile. Self confidence is an important part about how you feel, and how others perceive you. The good news is that no one has to go through a year or more of metal braces to get their teeth properly aligned. Six Month Smiles is a faster way to tooth straightening. In brief, they're clear braces for adults that gently move the teeth that show when you smile. Six Month Smiles can correct both gaps and over crowded teeth as well as overlapping teeth. Hi-Tech's Riverside office is also Invisalign certified. Regardless of which system you choose, during the process you'll be able to eat what you want, avoid irritation, and look great. You're never too old to get the beautiful smile you've always wanted.